Hey friends,
We are very glad to tell you that we have designed a brand-new version of official website (not including the blog/forum/store) and launched it recently. Here are some features of the new website:
Better design and more user-friendly interface
More smooth user experience
More details about our products and services
Easier to keep updated with our subscription service
You are welcomed to visit the new website, and if you find bugs on it, please share them with us. We will find the problems and try to quickly fix them. To reward your carefulness and preciseness, we have prepared some coupons for every bug finder. Come participate in this activity, and win your coupon!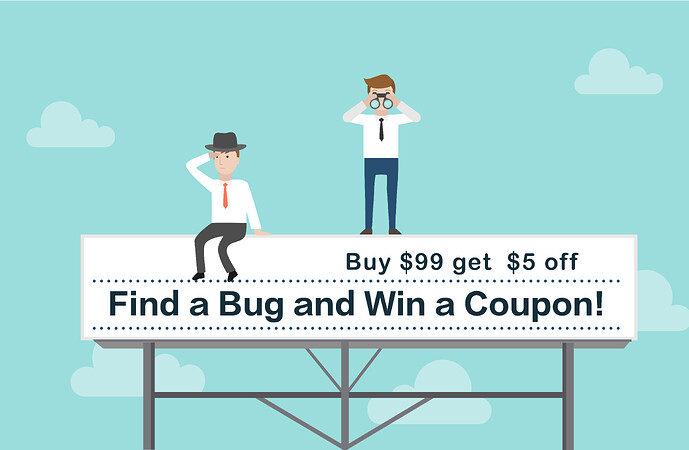 Time:
6/3/2016 – 6/30/2016
Coupon:
You can get a coupon for every verified issue/bug! (not including blog/forum/store)
Buy $99 get $5 off coupon when you expend over $99.
That means if you spend a minimum of $99 on our store, you will get $5 off.
The coupon in this activity is for every UFACTORY product and will expire on July 15th.
Rules:
Comment on this thread, and point out the bugs you find.

To ensure that we fully understand your report, please explain the following in detail:
What's the issue about?
What's your suggestion to fix it?

The issue must be a qualified vulnerability associated with our site, and you must be the first user who reports it according to posting time.
We promise to investigate and respond to all reports, and thank you for your kindness in helping us improve the user experience of the new website. Those who meet the eligibility requirements as mentioned above will be contacted by us and receive a coupon reward in your message inbox of the forum.
Visit the new website right now, find bugs and win coupons!
UFACTORY Website Team
6/3
亲爱的用户:
你们好。
非常高兴地告诉你们,UFACTORY的全新官网在近期上线了。相较于之前的版本,新官网做出了如下改变:
优化页面设计,提供友好的用户界面
提供更加流畅的用户体验
展示了更多关于产品与服务的介绍
提供更方便的邮件订阅服务,您可以及时获取最新资讯
非常欢迎您来体验我们的新官网,当然,如果你在浏览的过程中发现了任何bug,请告知我们,我们将尽快解决问题。为了感谢您的细心与耐心,我们为每个"找bug小能手"都准备了优惠券。赶快来参加"找bug赢取优惠券"的活动吧!
活动时间:
2016年6月3日-2016年6月30日
优惠方式:
您在新官网(不包括博客/论坛/商城)上找到的每一个bug,都将获得一张电子优惠券。持有该电子优惠卷,您可以在中文商城上享受配件8.5折优惠。
注:
*该优惠只针对配件,享受优惠的前提是您已经购买uArm机械臂
*优惠券不可重复使用,每张只能使用一次(单次购买不限购买数量)
*优惠券的有效期截至2016年7月15日
活动规则:
回复本帖,指出您发现的bug。
为了确保我们充分理解您指出的问题,请您详细解释您遇到的问题,以及您建议的解决方式。
您指出的bug必须是真实存在且对网站运行产生不利影响的错误,并且您必须是第一个指出该问题的用户(以回帖时间为准)。
非常感谢您帮助UFACTORY优化官网体验,我们将仔细调查您指出的每一个问题,并及时予以反馈。同时,我们将通过论坛私信给符合上述活动要求的用户发送电子优惠券。
现在就登陆UFACTORY官方网站,寻找bug,赢取优惠券吧!
(注意:中文商城正在维护升级,暂不支持支付。如需购买,请发送邮件至lorder@ufactory.cc。对您造成的不便,请您谅解。)
UFACTORY官网小组
6/3