Hi,
I try to make a pulse using the Grove Electromagnet control and the On/Off frequency I get is totally wrong. It skips and delays, completely asynchronous.
I have made a simple example using the Electromagnet Control and the Beep (see the image).
You can try it even if you do not have the Grove modules.
Regardless the beep example it happens the same with the electromagnet alone.
The first 29 beeps have the Electromagnet control involved and they are messy the second group of 29 beeps without the electromagnet control are periodic.
Could you please help?
Thanks,
Panayiotis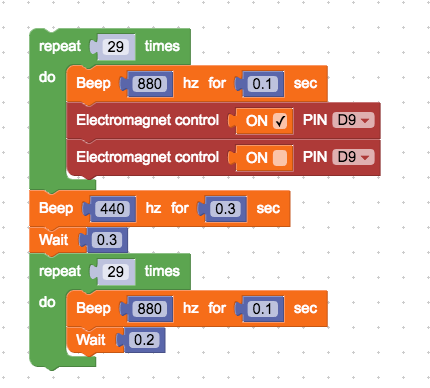 uArm Serial No.: D43639DB0D2C
Firmware Version: 3.1.16
Operation System: macOS Sierra 10.12.6
uArm Controlling Method: uArm Studio/Blockly
---
UFACTORY Website
Official Store
uArm User Facebook Group
Feedback:
English Channel
中文通道