1. As a beginner, what should I do when I first get my uArm?
Here are resources for beginners:
Video Tutorials (updating)
Download Software & User Manual


2. What should I do if uArm Studio failed to connect with uArm Swift (Pro)?
Please download or update to uArm Studio (1.1.13) or later.
It's now available on our website. If you didn't see it, please clear the history of your browser or try again later.
Click the question mark beside "Disconnected"


If the suggestions don't help, report your problem via Feedback Form with log files.
Log files help us locate problems quickly. You will be instructed to find the location of log files when you choose "Software Problems" → "uArm Studio"


3. What is "firmware"? How to update firmware?
Firmware is the "brain" of uArm, which enables uArm to understand your requests when you try to control it via software or codes.
In order to fix bugs or add new features, we'll update firmware from time to time. We suggest all users to keep the firmware updated.

Please enter "Setting" or "Check for Updates' to see the latest firmware version, release notes, and update firmware.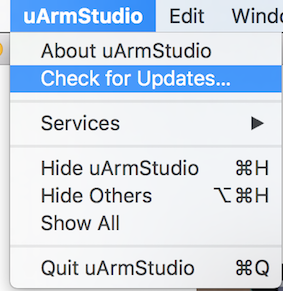 4. What should I do if firmware flashing is failed halfway, or I flashed the wrong firmware?
Here are the steps to flash firmware manually:
Download "FlashTool" (Flashtool is a simple tool made by the uArm Team for flashing firmware manually) and Firmware .hex file (currently for Pro only)

Connect uArm Swift (Pro) with computer via USB.
Please don't use uArm Studio while using FlashTool, or the port will be occupied.

Open FlashTool, and then drag the .hex file into the FlashTool window. Done!
Now you can open uArm Studio to check if the firmware is the latest.


5. What should I do if uArm seems to have a calibration problem/moves abnormally/skips steps?

Please check the wire connection (which may loose during shipping).


Let uArm go to these points via Blockly and send us a video.
So we can judge if there's a hardware problem.


Re-calibrate manually (only available for Pro).
But we don't recommend frequent calibrations.
Guide for re-calibration


6. As a developer, where can I find all the resources?
Communication Protocol: please refer to the "For developers" part of Quick Start Guide:
http://www.ufactory.cc/#/en/support/

UFACTORY-Developer Github Page: UFACTORY · GitHub
– SwiftProForArduino: uArm Swift Pro Arduino Library
– SwiftForArduino: uArm Swift Arduino Library
– SwiftProForROS: uArm Swift Pro ROS Library
– pyuf: uArm Swift Pro Python Library
– OpenMV examples: OpenMV example for uArm Swift Pro
Except the libraries above, other libraries are for uArm Metal ONLY, please don't apply it to Swift (Pro), in case of flashing the wrong firmware or causing damages to uArm.


7. How to order extra kit?
For those who want to order extra kits, please write to info@ufactory.cc


---
UFACTORY Website:
www.ufactory.cc
uArm User Facebook Group
Contact Us:
English Channel
中文通道