Hi all,
Since the first version of uArm Studio was released, we've received valuable feedback from you.
uArm Studio has much to improve and we need your advice. That's why we're introducing:
#UFACTORY Beta Download Center
##What is it?
A download center for uArm Studio beta versions & previous versions.
It may include beta versions of other uArm softwares in the future.
##Important Notices
uArm Studio Beta is NOT the official one published on our official website.
uArm Studio Beta will be updated frequently WITHOUT prior complete testing. It'll has more hidden bugs and less user-friendly interface than the official one.
With in-app updates, uArm Studio Beta can only update to the next Beta version, but NOT the official one.
##Who may need this?
Brave testers who want to test out new features first (at the risk of potential bugs).
Users that are experiencing the bugs that a test version has fixed (hopefully) and would like to test out new versions ASAP, rather than waiting for a downloadable one on our official website.
##What can I do?
Get and test the beta versions.
Report bugs or offer advice via uArm Studio Beta Feedback Form. We value your feedback.
Please DON'T report your problem of beta versions through the official Customer Feedback Form (which is only for users of non-beta uArm Studio).
##Ready? Try it out.
UFACTORY Beta Download Center
uArm Studio Beta Feedback Form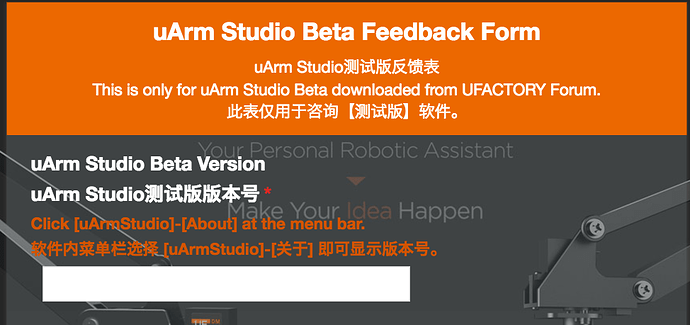 ##Latest Beta: uArm Studio Beta (1.1.13b3)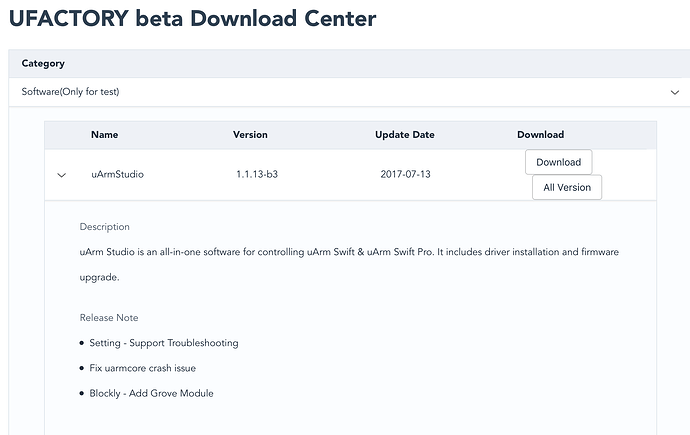 ---
UFACTORY Website:
www.ufactory.cc
uArm User Facebook Group